"HANDLE WITH CARE" VIDEO
caring for your older dog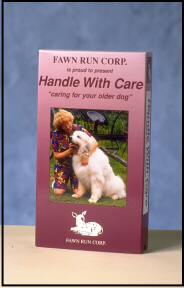 ARE YOU READY?
Your dog is always there for you, giving unconditional love. But what happens as your canine friend ages? What will you do? What can you do NOW? Presenting "Handle With Care", a 60 min video to help you prevent, recognize, and care for thoes illnesses associated with canine aging.
---
BreederBase
Call Toll Free @ 1-800-998-3331
P.O. Box 8 Clifton ID 83228, USA