Whelping Boxes


Dura-Whelp® is the Original Professional whelping-box.
The worlds
Cleanest & Easiest & Safest
whelping-boxes
"since 1994"!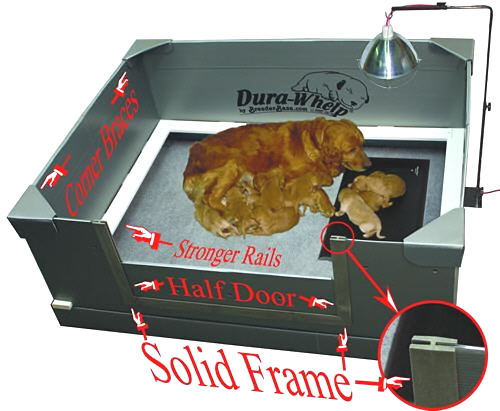 This new & improved door system comes with every new whelping-box.
Also
MORE OPTIONS
including:
corner braces
,
half door.
as featured in the AKC Gazette
U.S. Patent No. 5,497,729.
| Easy to USE | Easy to CLEAN | Easy to STORE | Made in USA by Professionals | Made of Corrugated Plastic | with a 3 Year Guarantee | Available in 4 Convenient Sizes |
---
We invite you to see for yourself!
Also, see what our customers have to say! Assembly is as easy as 1-2-3
1 2
3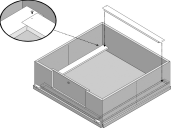 Box walls come as a single completed unit
Assembly simply requires 4 screws (included with every whelping-box)
The assembled Dura-Whelp is light-weight and easily moved,
our imitators' whelping-boxes come apart when lifted, ask them.
The Puppy Rails offer safety, so you can sleep at night
and are FREE with every whelping-box.
Full Door (included) slides up and out
---
World's safest Whelping-Box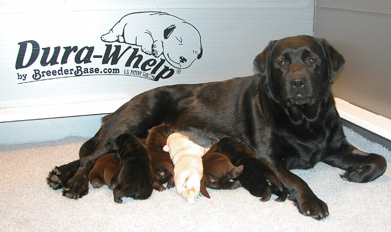 Puppy rails are important!
The job of a whelping-box is to keep puppies clean, safe & contained. Our patented design allows for the rails to be completely suspended above the floor. This eliminates the possibility of puppies getting crushed under complicated rail supports/feet or stilts. PUPPY RAILS are included with every whelping-box.
If it doesn't have rails, it's not a Whelping-Box.
---
Worlds Cleanest whelping-box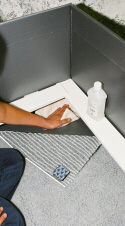 . .


Made of Easy to CLEAN Plastic
Corrugated plastic is somewhat flexible yet extremely durable and easy to clean. Our patented floor-to-wall design eliminates parts with complicated slots, grooves and gaps for poop/urine to get trapped in & leak out of. Our flat and open surface areas allow for easy cleaning! Outdated wooden boxes are not only heavy, and leak, but impossible to keep sanitary. Painting introduces diseases, skin lesions, etc. & the probability of puppies eating the paint. The entire Dura-Whelp® whelping-box can be easily cleaned with Bleach, Quatricide, other detergent or disinfectant.
Keeping a sanitary environment has never been easier!
---
The patented Dura-Whelp® whelping-box stores in its shipping carton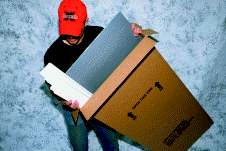 To disassemble and store the Dura-Whelp® whelping-box, simply reverse steps 1-2-3, and repack.
It can easily be stored in a closet or under a bed.
PLEASE
Don't Judge a Box
By Its Cover
We understand that the construction of Corrugated Plastic resembles Corrugated Cardboard, however, Corrugated Plastic is NOT CARDBOARD. The Dura-Whelp® whelping-box is made of top quality, extruded, 100% polypropylene plastic. The puppy rails are made out of vinyl with a wooden core. This plastic makes the Dura-Whelp® lightweight, strong, flexible, UPS shippable and easily cleanable. When it comes to performance (and cost), there is very little resemblance between Corrugated Plastic and Corrugated Cardboard.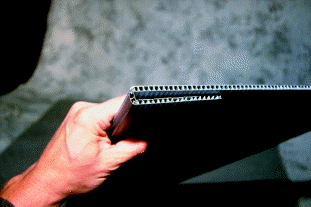 ---
| | |
| --- | --- |
| BOX SIZES | DIMENSIONS |
| Small | 34" x 34" x 15" |
| Medium | 40" x 40" x 20" |
| Large | 48" x 48" x 20" |
| Extra-Large | 60" x 48" x 23" |
What size is right for my breed?
---
Back due to popular demand, an unnecessary finishing touch for your Dura-Whelp®.
Comes in a pack of four corners.

Half Door
Many breeders requested a "half-door" option for the box. You got it!
This door is designed for use with the new frame.
---
Already included with all new Dura-Whelp® whelping-boxes, same low price!
This new door system is easy to use and WILL work with your existing Dura-Whelp whelping-box!
The frame is a solid (one piece) "H" grooved Polypropylene that fits perfectly in the door opening.
New doors are sized to accommodate this frame.



Get a new Door & Frame upgrade for your old & trusty Dura-Whelp® whelping-box.
---
---
Here's what some of our customers have to say
---

Don't forget your PADS,
PUPPY Incubator, Scale,

and your WEANING PEN.

BreederBase.com
Call Toll Free @ 1-800-998-3331
P.O. Box 8 Clifton ID 83228, USA
Your Whelping Box and Supplies Outlet